iREx wins inaugural FRQ DIALOGUE Award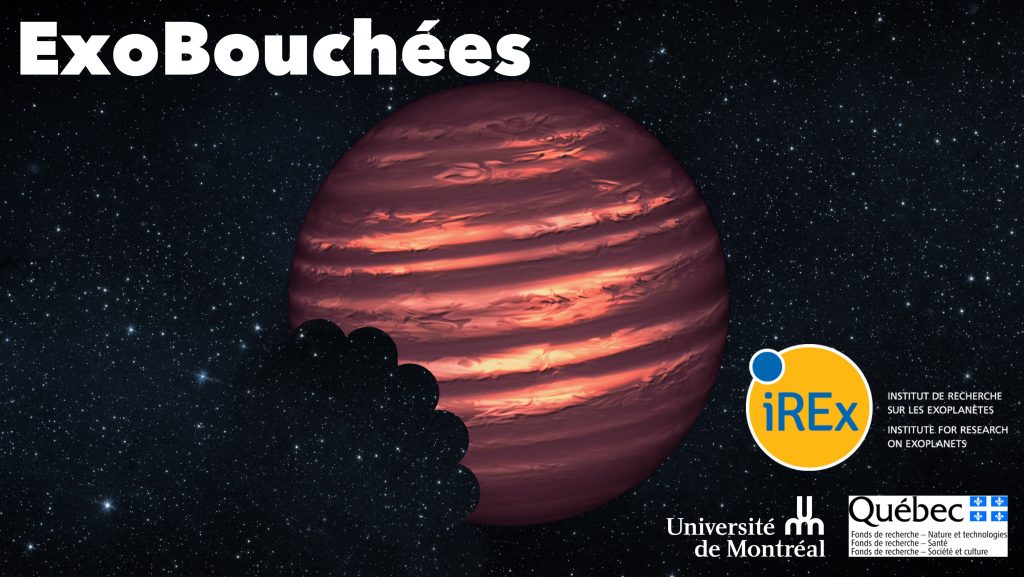 We are very pleased to announce that the iREx has been selected for a DIALOGUE – Researcher Award from the Fonds de recherche du Québec! The DIALOGUE – Researcher program is designed to encourage Quebec researchers to communicate their exciting research to the general public. A DIALOGUE – Student competition was also launched for doctoral students and postdoctoral researchers in Quebec who have designed a science communication project.
In the Researchers program, six winners were selected and will receive funding of up to $40,000 for a maximum of 18 months. In the Student program, twelve laureates were selected and will receive $5000 for a maximum duration of 1 year. Visit the FRQ website for a complete list of the winners.
The project proposed by the iREx is called Les Capsules ExoBouchées. In the spirit of sharing the latest news in the field of exoplanets – or planets found beyond our Solar System – and space in general and showcasing our researchers' exciting science, we wish to launch a video series that will allow the general public and students in Quebec and beyond to learn about these exciting new worlds. These short, bite-sized videos called "ExoBouchées" (ExoBites) will cover the basics needed to understand the field of exoplanets while focusing on the breakthrough science happening right here in Quebec and Canada through a mix of animated infographics and interviews with professional astronomers in a dynamic and playful manner. Our viewers will be able to learn more about exoplanets and our institute from anywhere in the world in French and English (subtitles). Topics covered will include how astronomers are attempting to answer questions such as "are we alone in the Universe?", why and how we are studying exoplanets, what the incredible next generation of telescopes will allow us to discover and what the life of a modern astronomer looks like. The ExoBouchées videos will feature astronomers of all levels, from graduate students to seasoned professors, take you on location to spectacular observatories where astronomers study the Universe and invite you into the world of real astronomy research beyond what you can find in a textbook.
The first ExoBouchées will be released later this year, so keep your eyes open!
Nathalie Ouellette, iREx